The Movies
The 50 Best Movies of the 90s
 50. Titanic (1997)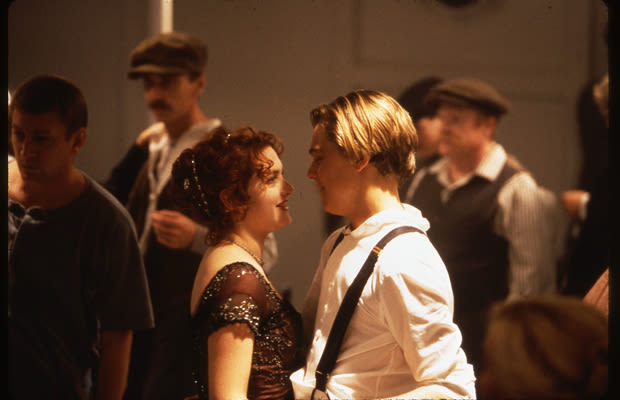 Director: James Cameron
Stars: Leonardo DiCaprio, Kate Winslet, Billy Zane, Bill Paxton, Gloria Stuart, Frances Fisher, Bernard Hill
Titanic is the ginormous elephant in the room, or rather, the entire 1990s. Film nerds are reluctant to put it on a "Best Of" list, but at the same time, you'd look like a pretentious asshole if you left it out entirely. But let's be honest, Titanic deserves a spot here, at the very least for its sheer magnitude. The impact of the film was overwhelming; you couldn't go a week without one of your peers mentioning they had seen it in theaters again, and cried just the same.
And let's not forget the careers it launched—Leo DiCaprio and Kate Winslet's—and the records it broke. Until Avatar, Titanic was the highest grossing movie in history, and history is a long damn time! If you haven't seen it, what the hell is wrong with you?! Not to worry though, the movie will be playing on some cable TV channel this weekend. —TA
49. Home Alone (1990)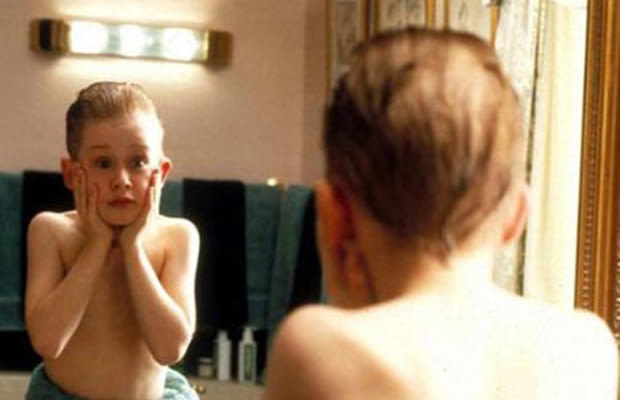 Director: Chris Columbus
Stars: Macaulay Culkin, Joe Pesci, Daniel Stern, Catherine O'Hara, John Heard
Kevin McAllister taught us how to dream, scheme, and turn our toys in weapons. The puny borderline-albino boy whose parents have too many other kids to keep track of to realize he's not on the plane to their vacation destination taught us that instead of not talking to creepy strangers, it's best to kick their ass. And man, how cool was it when he did? "Merry Christmas, you filthy animals!" —TA
48. Clueless (1995)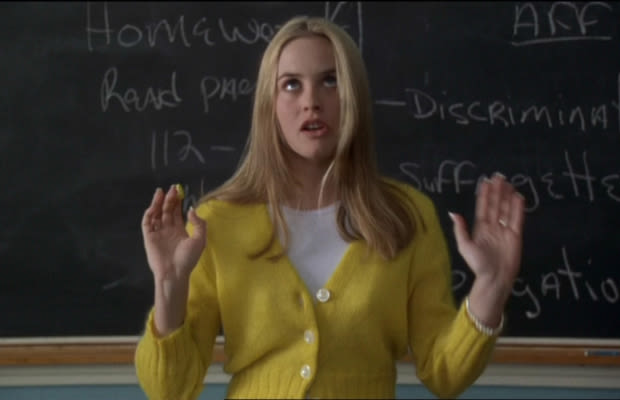 Director: Amy Heckerling
Stars: Alicia Silverstone, Stacey Dash, Donald Faison, Breckin Meyer, Paul Rudd, Jeremy Sisto, Justin Walker, Dan Hedaya, Elisa Donovan
It's true, Amy Heckerling's 1995 hit about Beverly Hills do-gooder Cher Horowitz (Alicia Silverstone at her finest) and her entourage of privileged one-percenters isn't necessarily one you want to broadcast fanship of to all of your friends, but if you haven't caught this flick at least once in the million times it's been rerun on basic cable, you owe it to yourself to check out this edgy-for-its-time classic, pronto.
In addition to bold fashion and catchy lingo for your lady, there's Stacey Dash, endless quality one-liners, and the added bonus of a pre-Apatow Paul Rudd (and a plotline involving some weird stepbrotherly love) for you. Who doesn't win here? —MB
47. Independence Day (1996)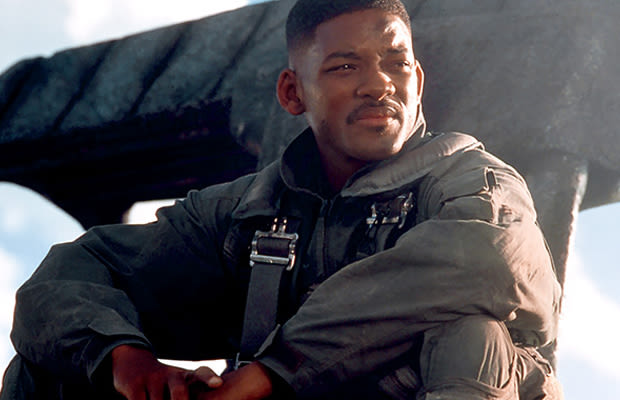 Director: Roland Emmerich
Stars: Will Smith, Jeff Goldblum, Bill Pullman, Vivica A. Fox, Judd Hirsch, Randy Quaid, Robert Loggia, Mary McDonnell, Harvey Fierstein
There's a time and a place for such things as plot, plausibility, and character development-blockbuster director Roland Emmerich has no fucking clue where that place is, nor when to arrive. Known for his loud, expensive, and ridiculous popcorn flicks (2012 being his most recent brain-number), Emmerich has bestowed several shit-sandwiches upon audiences, like the failed Godzillla reboot and The Day After Tomorrow; as far as we're concerned, though, he earned carte blanche in 1996 with the tremendously ludicrous yet undeniably awesome Independence Day.
The premise is your basic alien invasion set-up: Hostile E.T.'s bypass formalities and begin decimating all of Earth, prompting the military (including Will Smith), scientists, politicians, and everyday people to fight back and survive. Oh, and we can't forget about the dog that leaps out of the way of fireballs, or the gratuitous shot of Vivica A. Fox's rump in lingerie, or how shamelessly Emmerich blows up every major landmark in the U.S., especially the White House.
We could complain about how disappointing the aliens look and the movie's at times overdone "America, fuck yeah!" attitude, but that'd be missing the point. Emmerich made the flick for pure spectacle, and every self-respecting movie buff succumbs to cinematic junk food once in a while. Independence Day is a king-size Butterfinger bar. —MB
46. The Sixth Sense (1999)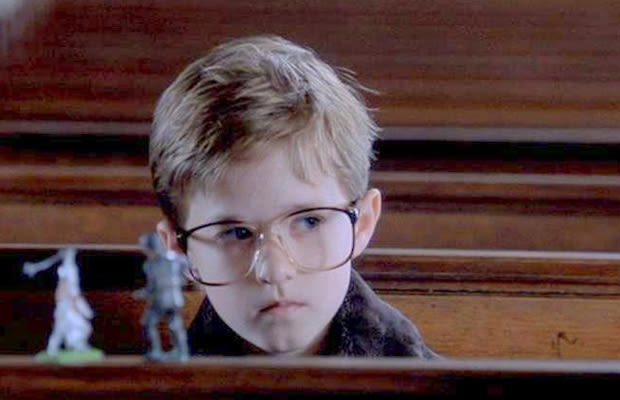 Director: M. Night Shyamalan
Stars: Bruce Willis, Haley Joel Osment, Toni Collette, Olivia Williams, Donnie Wahlberg, Mischa Barton
Putting the words "movie" and "twist" next to each other quickly brings to mind M. Night Shyamalan's polarizing The Sixth Sense, an effective supernatural thriller that's been debated and criticized for its twist ending. Some feel it's a masterful and impeccably executed gotcha moment; others, however, feel it's overrated or contradictory, or both.
We, for our part, can't help but remember our reaction the first time we saw The Sixth Sense, which was thankfully before anyone could spoil the story's true colors. To give those who've yet to see Shyamalan's pre-suckage (i.e., before The Lady in the Water, The Happening). The Last Airbender, After Earth) classic of Twilight Zone-quality elegance and suspence the same chance at untainted enjoyment, we'll not elaborate any further on what's really driving The Sixth Sense.
Just prepare to utter "Oh, shit!" and want to re-watch the film to test its narrative tightness. (Spoiler: It holds up surprisingly well.) —MB
45. Con Air (1997)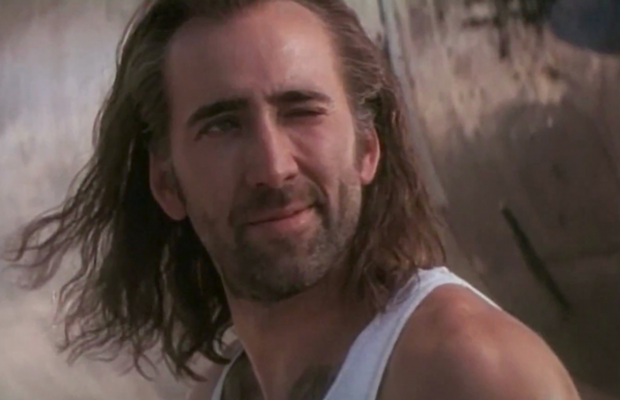 Director: Simon West
Stars: Nicolas Cage, John Cusack, John Malkovich, Monica Potter, Ving Rhames, Mykelti Williamson, Nick Chinlund, Rachel Ticotin, Steve Buscemi
Poor, wrongly imprisoned Nic Cage gets released, then has the gosh-forsaken luck to be on a prisoner transport plane full of insane killers and Dave Chappelle-who then of course take over the plane. You name the creepy movie badass (John Malkovich, Steve Buscemi, Danny Trejo) and they're in it. A classic ensemble murderfest. —VC
44. Billy Madison (1995)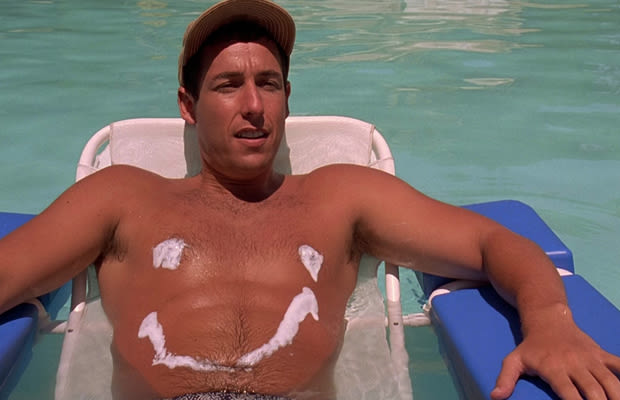 Director: Tamra Davis
Stars: Adam Sandler, Darren McGavin, Bridgette Wilson, Bradley Whitford, Norm MacDonald
Like Nas with Illmatic, Adam Sandler's first project stands as his greatest work. Let's not cast such serious praise on Billy Madison, though; instead, let's acknowledge the quintessential "stupid" comedy for its unflinchingly juvenile humor, its barrage of sophomoric one-liners, and how it laid the groundwork for overgrown man-kid characters to come, like Will Ferrell and John C. Reilly in Step Brothers.
It doesn't get much funnier than Sandler threatening elementary school kids for their snack packs or smack-talking his way through spelling bees. Sandler's goofball schtick may have lost some of its punch today, but back in 1995, he was an infantile-minded powerhouse, and Billy Madison is his crown jewel of funny childishness. —MB
43. Friday (1995)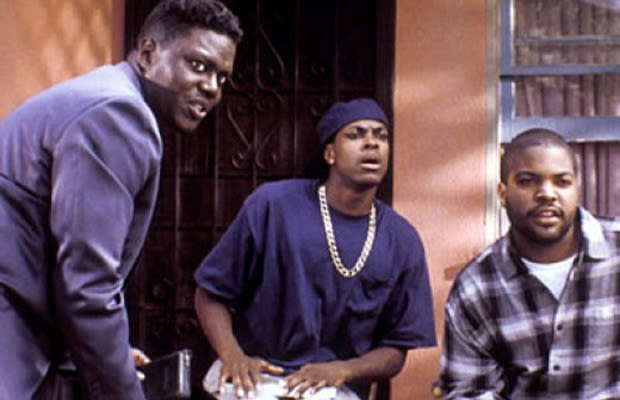 Director: F. Gary Gray
Stars: Ice Cube, Chris Tucker, Nia Long, Paula Jai Parker, John Witherspoon, Regina King, Faizon Love, Tommy Lister Jr.
Given that he had already made a top-notch hood flick (Boyz N the Hood), it could've been easy for Ice Cube to go the cheaper route and make a goofy Boyzs poof. Thankfully, he took the classier path. Much to the delight of street peeps and film critics alike, Cube assembled a tirelessly quotable comedy that didn't trivialize urban life in any way; the result was, and still is, the 'hood comedy to end all 'hood comedies.
Naturally, its success led to a couple of ho-hum sequels, but the crappiness of Friday After Next can't diminish the original's grandness. It's no coincidence that Chris Tucker isn't in the sequels. As the weed-loving sidekick to Cube's straightman, Tucker deserved a Best Supporting Actor nod; that is, if the Academy's headquarters were based in Compton. —MB
42. Juice (1992)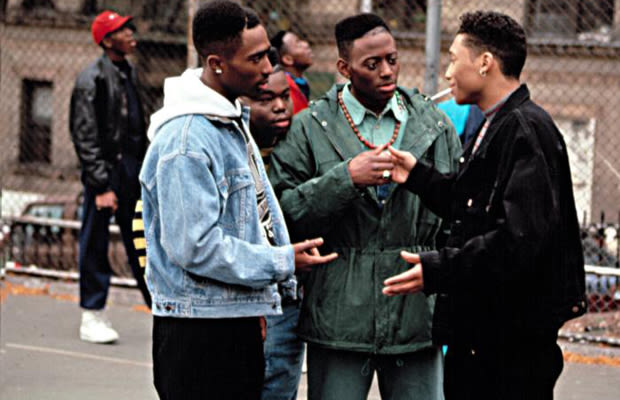 Director: Ernest Dickerson
Stars: Tupac Shakur, Omar Epps, Khalil Kain, Jermaine Hopkins
All "2Pac was a really good actor" talk starts with director, and Spike Lee protégé, Ernest Dickerson's underrated urban tragedy Juice. As the unstable loose cannon Bishop, Mr. Shakur hints at a Travis Bickle-like psychosis while forging a convincingly real friendship with his equally talented co-stars, namely a young Omar Epps.
The script, co-written by Dickerson, is also top-notch. Bishop and his boys watch James Cagney's gangster-ific White Heat and get inspired to do some crime; Bishop, the craziest of the bunch, buys a gun and orchestrates a half-assed bodega robbery. Which, in true cinematic form, goes awfully bad, and that's when bonds snap and blood spills.
With a superior, all-hip-hop soundtrack as its score, and arguably cinema's all-time best DJ battle sequence, Juice stands out amongst the hood-centric movies of the 1990s. On any given day, we might actually prefer it over Boyz N Da Hood. —MB
41. The Last of the Mohicans (1992)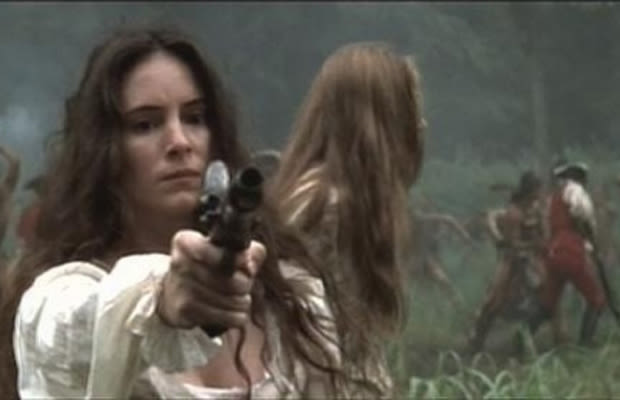 Director: Michael Mann
Stars: Daniel Day-Lewis, Madeleine Stowe, Russell Means, Eric Schweig
Forget the bloodshed, burning homes and all out massacres in Michael Mann's rapturous historical drama, set during the French and Indian War. One particular waterfall scene alone between a British Colonel's daughter (Madeleine Stowe) and her protector Hawkeye (Daniel Day-Lewis) will have you feeling all lovey dovey for days. Ugh, is there anything more romantic than forbidden love? —TA
40. The Blair Witch Project (1999)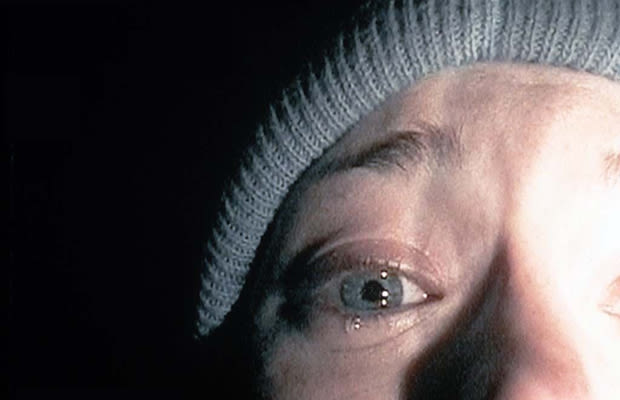 Director: Daniel Myrick and Eduardo Sanchez
Stars: Heather Donahue, Michael C. Williams, Joshua Leonard
If, 20 years from now, you find yourself in the bind of having to explain how found footage became the technique in horror movies, you have to trace it back to the source, to the little indie that did, The Blair Witch Project.
Released in 1999, the film wanted you to see it as non-fiction, the actual record of three students pursuing a local legend in Maryland. (Yes, this is also the film that has got you into countless arguments with dummies who think that recent incarnations of Texas Chainsaw Massacre and Paranormal Activity are based on true events.) Costing less than a million dollars, The Blair Witch Project went on to gross about 250 times that amount.
This is the model for countless films, and to be an informed, developed viewer of film, you have to go back to the blueprint. —RS
39. Boyz N the Hood (1991)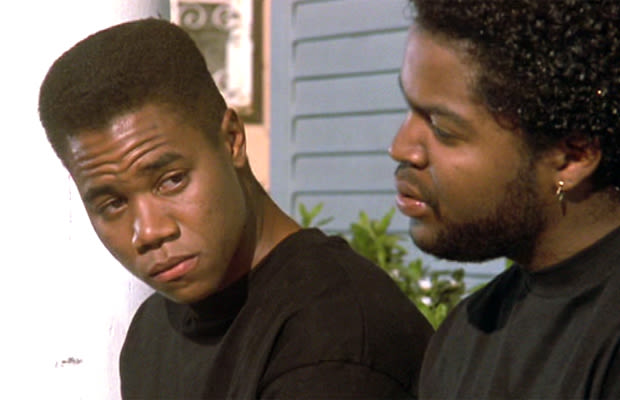 Director: John Singleton
Stars: Cuba Gooding, Jr., Ice Cube, Morris Chestnut, Laurence Fishburne, Nia Long
Before the then-23-year-old John Singleton emerged with the poignant Boyz n the Hood, filmmakers stayed clear of the urban black life.
For critics and moviegoers alike who'd only heard about ghetto hardships in rap songs, Boyz n the Hood exposed them to a real world where dreams don't seem attainable. A world where a promising, college-bound high school athlete gets needlessly gunned down; one where a charismatic and intelligent teenager choose drug-dealing over school because, well, school doesn't offer the same kinds of financial rewards.
Singleton lets his characters act genuinely in the most challenging of situations, never leading them down sentimental paths in ways that lesser filmmakers very well could have. Boyz n the Hood works as a slice-of-life film that just so happens to take place in the mean streets of South Central Los Angeles, which, back in 1991, was a setting that had yet to get any mainstream attention from the movies. And the powers that be rewarded Singleton handsomely: He became both the youngest person ever and the first African-American filmmaker to be nominated for Best Director at the Oscars. —MB
38. Princess Mononoke (1997)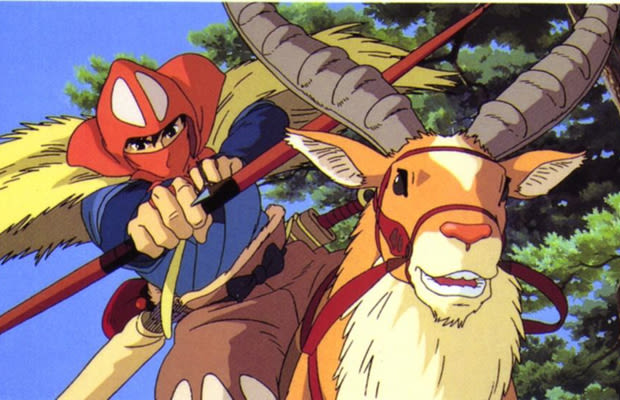 Director: Hayao Miyazaki
Stars: Billy Crudup, Claire Danes, Minnie Driver, Billy Bob Thornton, Gillian Anderson
Japan's genius Hayao Miyazaki has plenty of movies that kids of all ages can watch, like My Neighbor Totoro, Ponyo, and Spirited Away. Princess Mononokeisn't one of them. It's easily his scariest film-in one scene, for instance, a character's limbs get severed off, and also one of his best.
Japanese viewers of all ages quickly took to Princess Mononoke-it raked in 150 million during its seven-month theatrical run. The scope is epic: After his village gets rampaged upon by a wild boar, a prince named Ashitaka goes on a journey to find a deer god while combating against a wolf god's destruction of Earth's landscape.
That's right, Princess Mononoke is an eco-friendly message movie disguised as a young warrior's tale. Kids have enough trouble tossing soda cans into the proper recycling bins-they're definitely not ready for the wrath of the lycanthropic Moro. But consenting adults should seek it out immediately, as it's gorgeous, brutal, and unlike anything at the American multiplex. —RS
37. Schindler's List (1993)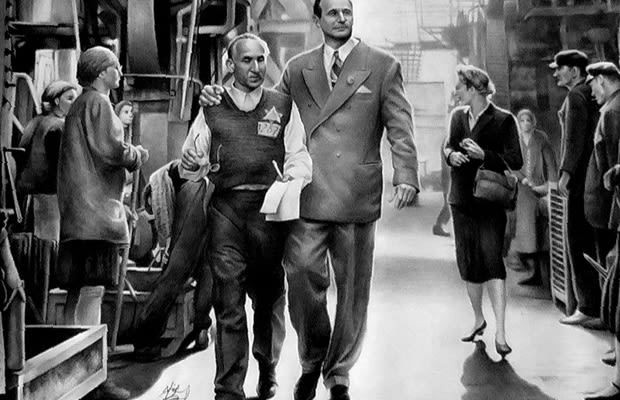 Director: Steven Spielberg
Stars: Liam Neeson, Ralph Fiennes, Ben Kingsley, Caroline Goodall, Embeth Davidtz
You'd have to be made of stone to not feel the dramatic force of Schindler's List, arguably Steven Spielberg's towering masterpiece. Centered in one of mankind's darkest events, the Steven Zallian-written film recounts the true story of a German businessman, Oskar Schindler (Liam Neeson), who opens a cutlery factory, hires Jewish concentration camp prisoners for no pay, and ultimately saves upwards of 1,100 prisoners from certain death at the hands of the Nazis.
At nearly three-and-a-half-hours long, Schindler's List is a long haul, but one that's totally worth the patience and, more importantly, the mental anguish. Spielberg doesn't shy away from depicting the horrors of Nazi death camps; watching the black-and-white epic, it's impossible to not ponder the evil that men can do, and, really, what's sadder than the truths that spring from such questioning? —MB
36. Out of Sight (1998)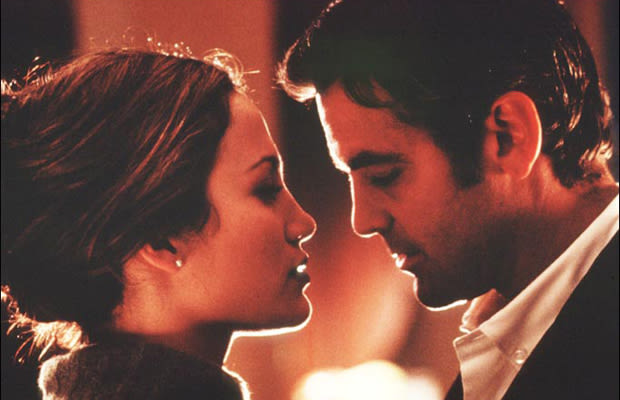 Director: Steven Soderbergh
Stars: George Clooney, Jennifer Lopez, Ving Rhames, Steve Zahn, Don Cheadle, Albert Brooks, Dennis Farina, Luis Guzman, Isaiah Washington, Nancy Allen, Catherine Keener
Out of Sight is, and isn't, the crime-based romantic comedy that you'd expect. Sure, the film was made with the intent to be your run-of-the mill, entertaining, thrilling and sexy blockbuster by casting the two most beautiful actors in Hollywood, George Clooney and Jennifer Lopez, as its leading actors. But the movie didn't even sell that well at the box-office.
On the other hand, Out of Sight received critical acclaim because it was able to balance comic Hollywood entertainment and unconventional characters, plot and dialogue all at the same time. It's really worth it just to watch its amazing cast kick ass and get their asses kicked. —JS
35. Thelma & Louise (1991)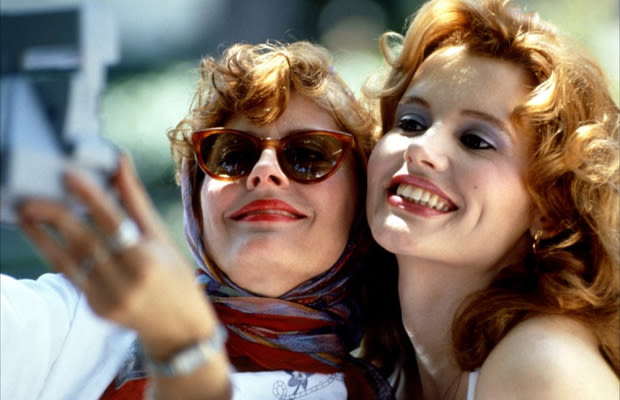 Director: Ridley Scott
Stars: Susan Sarandon, Geena Davis, Brad Pitt, Harvey Keitel, Michael Madsen, Christopher McDonald, Stephen Tobolowsky
You haven't seen bad-ass until you've seen Thelma & Louise. Sick of their hopeless marriages and dead-end jobs, a pair of Arkansas-based best friends decide to take a trip out of town. However, the mini vacation goes awry when Louise (Sarandon) shoots a rapist attacking Thelma (Davis). Thus begins the thrilling cross country adventure of two on-the-run fugitives booking it to Mexico to escape prison. Along the way, we not only fall in love with two of the most referenced female characters in movie history, but we're also introducedto one of today's biggest stars, Brad Pitt. —TA
34. Menace II Society (1993)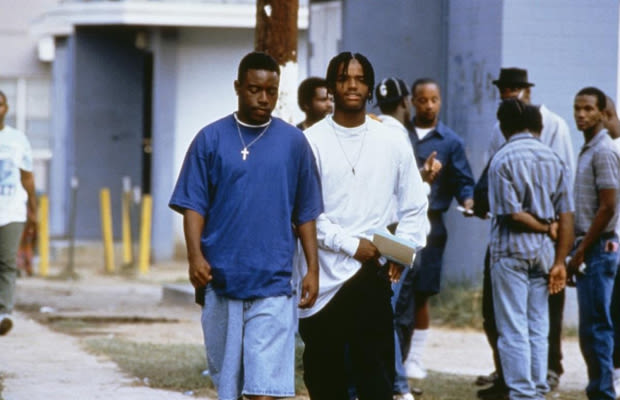 Director: Allen and Albert Hughes
Stars: Tyrin Turner, Larenz Tate, MC Eiht, Samuel L. Jackson, Jada Pinkett
The debate will rage on forever between which is the all-time crowning achievement in "hood cinema": John Singleton's Boyz n the Hood or the Hughes Brothers' Menace II Society. Both films are quality films, but in very different ways. For instance, Menace is the tougher film, relentlessly bleak and devoid of sentiment.
This Watts-set debut from siblings Allen and Albert Hughes holds nothing back. The body-count is high, the characters (even the protagonist, actor Tyrin Turner's Caine) are equal parts sympathetic and terrifying, and the payoff is fearlessly tragic.
In the end, Menace II Society forces viewers to draw their own conclusions about who's right, who's wrong, and who the good guys are, if any even existed in the first place. For a couple of filmmaking novices, that's remarkable. —MB
33. Edward Scissorhands (1990)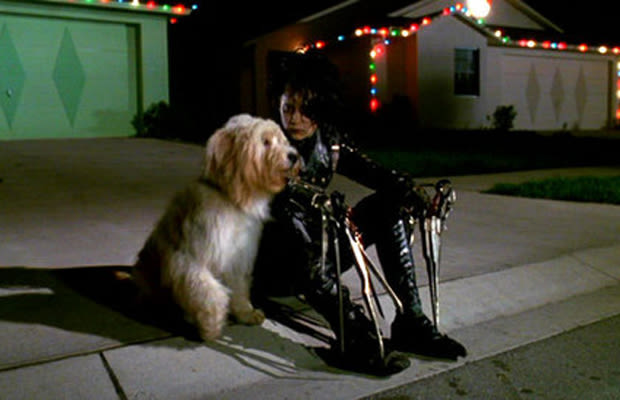 Director: Tim Burton
Stars: Johnny Depp, Winona Ryder, Dianne Wiest, Anthony Michael Hall, Kathy Baker, Vincent Price, Alan Arkin
We can't blame haters for looking at this summer's Johnny Depp/Tim Burton collaboration Dark Shadows with middling expectations-neither guy has been at the top of his respective game as of late. And then there's Alice In Wonderland, the eccentric friends' last, and all-time worst, union.
To reflect back on the days when the words Depp and Burton promised heart-tugging strangeness, look no further than 1990's Edward Scissorhands, a singularly touching fantasy production that marked their first time on a film set together. The scissor-man's look may be hokey to some, but Burton's film remains a haunting flip on the age-old outsider/Frankenstein allegory. —MB
32. Starship Troopers (1997)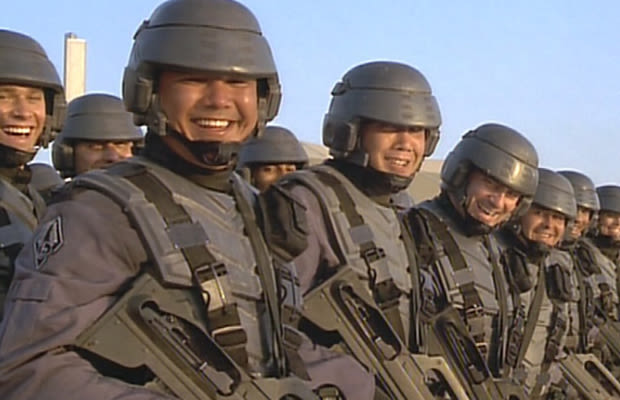 Director: Paul Verhoeven
Stars: Casper Van Dien, Denise Richards, Neil Patrick Harris, Dina Meyer, Jake Busey, Clancy Brown, Michael Ironside, Patrick Muldoon
The first time we saw Paul Verhoeven's Starship Troopers, the sight of giant alien bugs being riddled with bullets as military fighters died by the dozens earned the instant thumbs-up. The battle scenes, of which there are many, pulsate with glee; Starship Troopers is our chance to watch the controversial Dutch filmmaker indulge in war-time anarchy with the giddiness of a kid playing with G.I. Joe action figures.
But with repeated viewings, you can't help but notice what Starship Troopers is: satire. Not exactly what you'd expect from a movie starring Casper Van Dien, Neil Patrick Harris, and Denise Richards. This movie is about fascism, plain and simple. —MB
31. Scream (1996)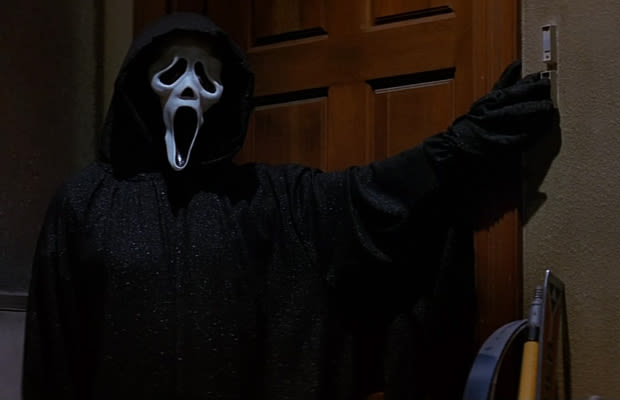 Director: Wes Craven
Stars: Neve Campbell, Courteney Cox, David Arquette, Matthew Lillard, Skeet Ulrich, Rose McGowan, Drew Barrymore, Jamie Kennedy
Last year's The Cabin In The Woods owes a lot to Wes Craven's Scream, which was, up until now and Cabin's debut, the only mainstream meta-horror film that mattered. For his genre targets of choice, the screenwriter opted for the then-dead slasher flick template, unleashing a masked killer onto a band of unsuspecting youngsters, all of whom are pin-up-level attractive.
Except, in Scream, the potential victims all knew a great deal about how slasher movies work, and Williamson's script deftly uses their consciousness to routinely subvert the audience's expectations. Eventually, the Scream franchise would devolve into passable flicks that focus too much on the comedy and hardly at all on the scares (see: 2011's sadly uneventful Scream 4). But we'll always have Craven's original to cherish. —MB
30. Terminator 2: Judgment Day (1991)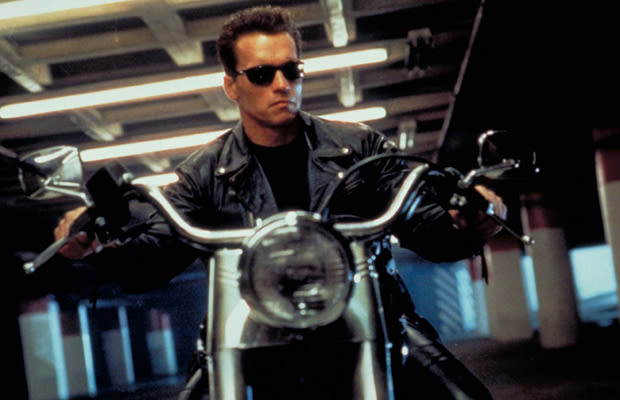 Director: James Cameron
Stars: Arnold Schwarzenegger, Linda Hamilton, Edward Furlong, Robert Patrick, Joe Morton, S. Epatha Merkerson
His holier-than-thou public persona might drive us up a wall, and Avatar is still an overrated cross-breed of Dances With Wolves and FernGully, but we've got to hand it to James Cameron: He's the king of sequels. Showing that his extraordinary sequel to Alien, 1986's Aliens (which we'll discuss in a few) was no fluke, Cameron followed up his own sci-fi standout The Terminator with a second round that's much more ostentatious and ultimately superior to its predecessor.
Arnold Schwarzenegger once again plays the mostly silent cyborg sent back from the future, though this time he's a good guy; the villain is a borg that's able to regenerate its human shell (dressed in a cop uniform and played with imposing menace by Robert Patrick) and hell-bent on killing young John Connor (Edward Furlong). Cameron didn't waste a penny of the film's reported $100 million budget (a staggering sum back in '91), packing the visceral T2 with a ridiculous amount of explosions, car wrecks, man-sized robots, and bodily transformations.
Just as audiences emitted collective gasps at the sight of Avatar's groundbreaking visual effects, ticket-buyers back then greeted the best sci-fi sequel ever made (yup, we said it) with similar astonishment. The main difference being that T2 still kicks tremendous amounts of behind 20 years after its release; we're expecting first-time viewers in 2029 to watch Avatarand say, "That shit was actually nominated for Best Picture?" —MB
29. Fight Club (1999)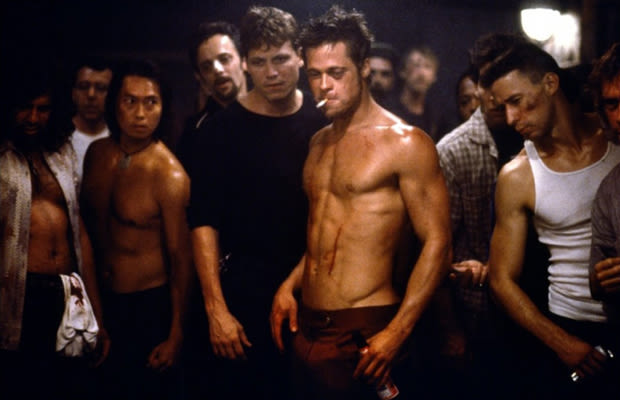 Director: David Fincher
Stars: Brad Pitt, Edward Norton, Helena Bonham Carter
Mishandled to the extreme when it came to the marketing approach, Fight Club fought an uphill battle before finding success in living rooms across America, a new classic once it hit DVD.
Based on the novel by Chuck Palahniuk, Fight Club told the story of a man (Edward Norton) who sees little significance in modern life. Then he meets Tyler Durden (Brad Pitt), who understands his problem and has the solution: grown men hitting each other to feel things. Oh, it's hard to be a white man, isn't it?
Jokes aside, the movie is a technical tour de force, with impeccable cinematography and smoldering performances. It's become one of the defining films of the '90s, muddled message be damned. Turns out that ultimately nobody paid attention to to the golden rule: "You do not talk about Fight Club." —RS
28. La Haine (1995)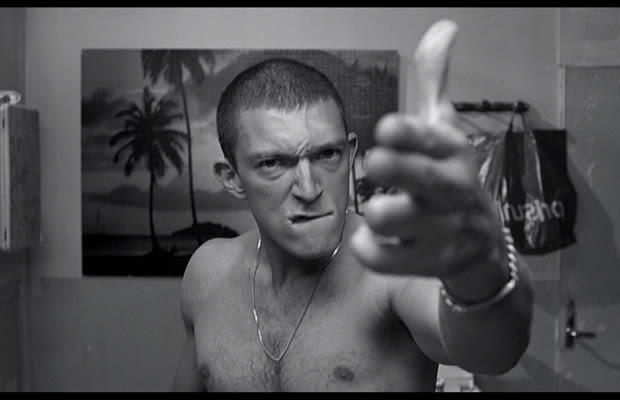 Director: Mathieu Kassovitz
Stars: Vincent Cassel, Hubert Kounde, Said Taghmaoui
Although urban cinema was born in the United States with classics like Boyz n the Hood and Juice, the French quickly caught up with its competition with Mathieu Kassovitz's La Haine. This black-and-white drama depicts 19 hours in the life of three young friends (Vincent Cassel, Hubert Koundé, and Saïd Taghmaoui) living in the Parisian banlieue.
The film perfectly balances between drama, comedy, suspense and what is a French film if it's not making some commentary on the state of France's social politics with mind-blowing cinematography. Hollywood may have taken over the world of cinema for nearly a century now, but the French still have that artistic and intellectual touch that nobody else can get close to. —VC
27. The Thin Red Line (1998)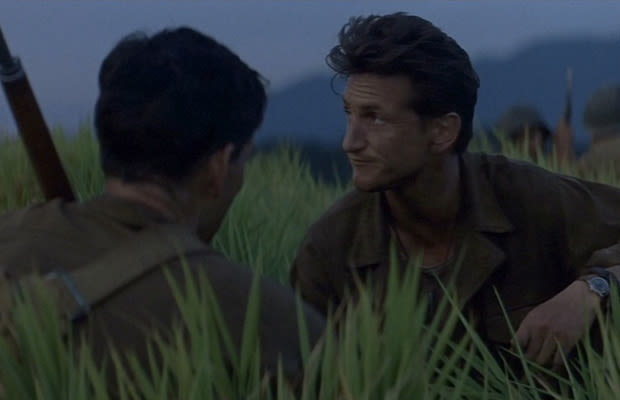 Director: Terrence Malick
Stars: Jim Caviezel, Sean Penn, Nick Nolte, Dash Mihok, Elias Koteas, John C. Reilly, Adrien Brody, Woody Harrelson, John Cusack, Ben Chaplin, Mirando Otto, Jared Leto, John Travolta, Nick Stahl, Thomas Jane
Directed by Terrence Malick, The Thin Red Line is a hauntingly picturesque look at the Battle of Mount Austen in the Pacific Theater of World War II. A fictionalized account, the film puts a poetic spin on the tried and true war movie than makes the the themes of morality and mortality feel palpable. Not to mention, it boasts an impressively stacked cast of today's A-listers.  —TA
26. Wild at Heart (1990)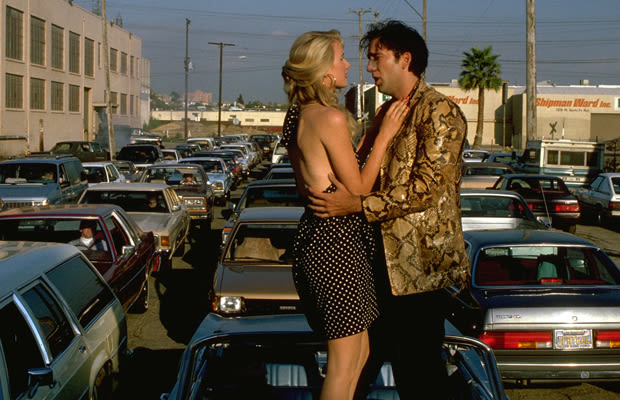 Director: David Lynch
Stars: Nicolas Cage, Laura Dern, Willem Dafoe, Crispin Glover, Diane Ladd, Isabella Rossellini, Harry Dean Stanton
Though Diane Ladd's bonkers performance as Marietta Fortune in David Lynch's adorable Wild at Heart is a thing of beauty, Willem Dafoe's turn as Bobby Peru provides the movie with its real rotten core. Fortune angers viewers by keeping the film's lovers, Lula (Laura Dern) and Sailor (Nic "The Cage" Cage), apart, but Peru has the audience reaching for the vomit bags. Sporting the most fucked-up grill in cinematic history, Peru is the abject personified, a small-time gangster with a shitty stick-up plan that ensnares our couple.
In one scene, as a prelude to a pass at Lula, he asks her to take note of the "deep" sound he makes when urinating. In just a few minutes worth of dialogue he likens his sex game to that of a jackrabbit; inquires after the current moisture level of Lula's "pussy"; compares her genitals to a Christmas present; breathes on her heavily (obviously); and threatens to remove her heart, all while speaking largely in the third person and wearing a tasseled leather blazer. Again, this is just one scene. —RS